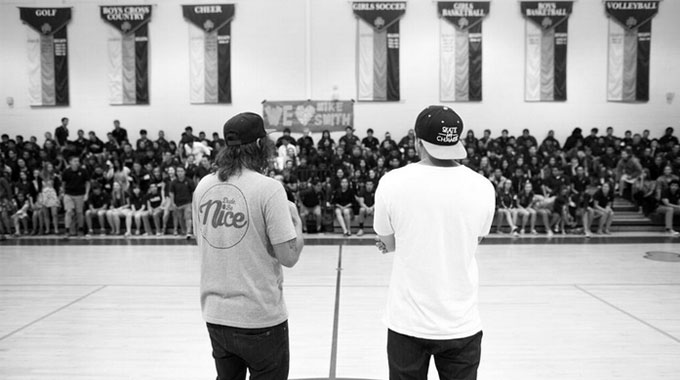 Wienerschnitzel and Skate for Change – Hot Dogs for Homeless
Last month, J.R. Galdari Chief Visionary Officer of Wienerschnitzel and Mike Smith, Founder of Skate for Change and Professional Speaker joined forces for a month-long tour focused on giving back. The Hot Dogs for Homeless Tour visited 20 cities with high homeless populations to provide hot meals, socks, and hygiene kits for the homeless in these communities. During the tour, Mike and J.R. also visited 20 high schools to share their passion for making the world a better place – one person at a time.
Who was a part of the tour and how did the collaboration come about?
JR: The Hot Dogs for Homeless crew was made up of Mike and myself, along with chief marketing officer for Skate for Change, Josh Schmitz, a videographer and a photographer. We were also joined along the way by our friends, family and volunteers, who came out to help hand out hot dogs and support the cause. We all came together with charitable giving in mind, just trying to put out good energy and make a difference in the world.
Mike: The collaboration came about as a way to fuse our shared passion of philanthropic giving. My non-profit, Skate for Change, was founded four years ago, and when I met JR, we hit it off immediately and decided to do something incredible together. Through the generosity of Wienerschnitzel, who supplied the hot dogs as well as the resources, we created this Hot Dogs for Homeless campaign with the goal of helping as many people as possible.
What was the result of Hot Dogs for Homeless and what do you hope the lasting impact of the tour will be?
JR: We set a goal to raise $100,000 and give away over forty thousand hot dogs…and we did!  The purpose of this tour was simple: to feed as many homeless as possible, and to make a lasting impression on anyone we come across. When we visited high schools, the ripple effect the tour had was incredible. We encouraged students to get involved in their communities and invited them to join us to hand out hot dogs to the homeless. Our hope was that those kids would maintain it after we leave.
Mike: In addition to providing hot meals to the homeless, a big focus of this tour was to inspire young people to create positive change in their communities. Over the course of the tour, we stopped at 20 different high schools and spoke to over 40,000 students, encouraging them to give back to their school and their communities, and to be mindful of the legacy they leave behind.

How did you celebrate the success of the tour? We heard there were tattoos involved.
JR: A few guys on the tour including Josh Schmidt, Chief Marketing Officer of Skate for Change, and our good friend, The Dingo, are proudly sporting freshly-inked hot dog tattoos. It's cool to see Wienerschnitzel making such a permanent impact.
Was there a specific city where you felt the tour had the most impact?
Mike: We planned the tour around areas with large homeless populations to make sure that we were able to help as many people as possible. We met so many incredible individuals along the way and have so many amazing memories from every city we visited. If I had to pick though, I'd say that our days in Texas and our time at the L.A. Mission stick out to me the most.

Why is it so important for companies to lead by example?
JR: As a successful, 54-year-old brand, Wienerschnitzel has the resources and the visibility to really make a difference. I feel it's our responsibility to share our successes with those who are less-fortunate and I've put a huge focus on giving back. Supporting worthy causes is something that is important to me personally and professionally.
Do you plan to do another tour? How can people get involved?
JR: We definitely plan to do another tour, and are looking forward to taking what we've learned from this event and applying it to the next. We'll also be setting more aggressive goals next year.
Mike: Absolutely! We're looking forward to getting the crew together again next year and making Hot Dogs for Homeless even bigger. People can get involved by sharing our story on social media, joining an existing Skate for Change chapter, or starting their own Skate for Change chapter. You can also visit www.SkateForChange.org.
– See more at: https://www.malakye.com/Features/WorkLife/8103/Wienerschnitzel-and-Skate-for-Change-Hot-Dogs-for-Homeless.aspx#sthash.hCPQvMl0.dpuf