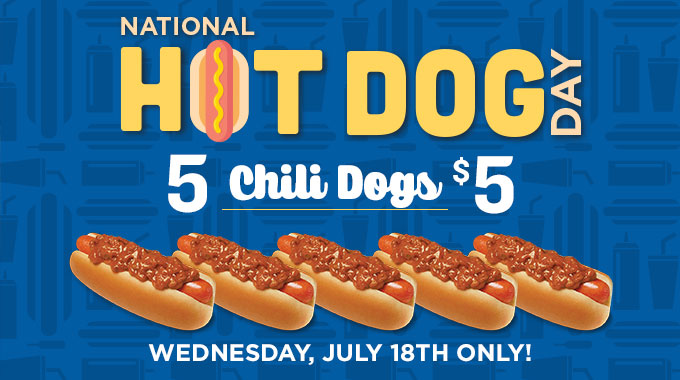 WIENERSCHNITZEL GEARS-UP FOR NATIONAL HOT DOG DAY WITH SPECIAL JULY 18
World's largest hot dog chain offers five Original Chili Dogs for $5
The National Hot Dog and Sausage Council created National Hot Dog Day in 1991 to give hot dog lovers their very own holiday. This year, the special day falls on July 18 — and the World's Largest Hot Dog Chain is celebrating with an exclusive, one-day offer.
Known as the home of the world's most-wanted wiener, Irvine, Calif.-based Wienerschnitzel is offering five of its legendary World Famous Chili Dogs for $5. The special price is valid only on July 18 at participating Wienerschnitzel restaurants in 11 states.
National Hot Dog Day is typically one of Wienerschnitzel's busiest days of the year. There is no limit to the number of hot dogs that hungry hot dog fans can purchase however the offer is only valid while supplies last.
"We like to celebrate all holidays at Wienerschnitzel, but especially one dedicated to hot dogs," said Doug Koegeboehn, chief marketing officer at Wienerschnitzel. "We love to have fun with our guests and giving them a great deal just makes the day even better for everyone!"
To find locations and directions to the nearest Wienerschnitzel, visit locations.