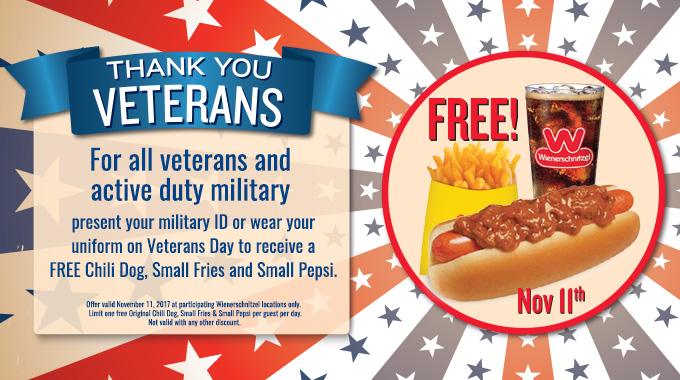 Wienerschnitzel Honors US Veterans and Active and Reserve Military
The World's Largest Hot Dog Chain® proudly extends it's free Chili Dog Meal on Nov. 11, 2017
Veterans Day gives Americans the opportunity to honor the bravery and sacrifice of U.S. veterans and those currently serving. Once again this year,
Wienerschnitzel is saying thank you with a free Chili Dog, small Fries and 20 oz. drink to U.S. veterans and those in active and reserve military duty.
This special offer is valid on Nov. 11 only at participating Wienerschnitzel restaurants in 10 U.S. states and Guam. Guests will need to present a valid military ID or wear their military uniform. There is a limit of one free meal per veteran or military member.
"Wienerschnitzel is honored to once again serve the extraordinary men and women who have served America," said J.R. Galardi, Wienerschnitzel executive vice president. "On behalf of the entire Wienerschnitzel family, we offer our best – a chili dog, small fries and small drink– as a token of our appreciation and gratitude."
According to the U.S. Department of Veteran Affairs, there are 18.5 million veterans, 1.28 million active duty personnel and 801,200 serving reserve duty in the U.S.